Sale!
The Hiker Survival 25-in-1 Folding Shovel
Save $60
Only 5 left in stock
6
People
are viewing this right now
Out of stock
Description
Be prepared for any situation without a backpack full of heavy gear! This multifunctional survival tool is A MUST-HAVE in your outdoor equipment!
We know just how hard it can be to find a balance between being prepared and being overpacked. This led us to create this one ultimate survival tool that is compact, lightweight, and combines all the necessary tools, ensuring you're ready for anything.
✔️ Sturdy & Durable – This survival tool set constructed with military-grade solid carbon steel with aerospace-grade anodized aluminum tubes that make it sturdy enough to deal with survival activities or car/truck emergencies.
✔️ Mufti-functional – This ultimate survival shovel incorporates 12 other functions and tools, including a shovel, hoe, saws, bottle opener, cleaver, whistle, knife, fish scaler, emergency hammer, flat-blade screwdriver, and 4 size wrench. These functions will ensure you survive camping with your kids.
✔️ Portable and Collapsible – This camping shovel can be folded and expanded by a twisting lock for secure storage and carrying. A durable carry storage bag is coming with the package as camping gifts.
✔️ Not just camping – This tactical shovel is perfect for camping, hiking, gardening, backpacking, hunting, traveling, expedition, car emergency, and outdoor survival.
Built To Last
The Hiker Survival Shovel has a hardened-steel, reinforced shovel head that is tough enough for any situation and the military grade aluminum handle makes it lightweight and easy to work with.
The Ultimate Survival Tool
Be prepared for anything. The Hiker Survival Shovel is a lifesaving survival tool that's perfect for any adventure. It's lightweight and packable, so you can keep it anywhere, from your car to your bug-out bag.
25-in-1 Multifunction
Ideal for Off-roading, Camping, Hiking, SUVing, Backpacking, Fishing, Disaster Recovery, RV Camping, and a must have for Expeditionist, Cadet, Scout, Military Personnel, Hikers, Camper, Hunter, Fisherman, Gardener, Survivalist, Truck driver, Motorcyclist, etc.
Knife/Saw/Bottle Opener
Window Breaker/Ice Crusher
Whistle/Magnesium Rod
Screwdriver
Fire Starter
Hoe
Hammer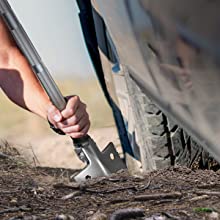 Shovel
Specifications:
| | |
| --- | --- |
| Material: | High strength manganese steel alloy |
| Shovel Length: | 67cm / 26.4inch |
| Shovel Size: | 1613cm / 6.35.1inch |
| Net Weight: | 1118g / 2.46 lb |
| Gross Weight: | 1290g / 2.70 lb |
| Color: | Silver |
Incredibly Powerful:
Made of high-strength manganese steel alloy to withstand the toughest of conditions and a rust-resistant finish, our shovel is built to last a lifetime.
Non-slip handle design ensures comfortable and convenient use. Dig, entrench, chop, with confidence.
Complete Survival Tools Set:
Easily assemble and disassemble each part of this folding shovel and store it in your backpack or car.
Be prepared in the outback with all the different functions of this multitool.
Dig out a fire pit, crack the ice around your truck tires, or break a car window in an emergency.
Use the blade of the shovel to quickly hack branches, slice vegetables, or split logs.
The inner strands of the paracord loop can be used to suture and stitch up open wounds.
Quickly start a fire with the magnesium rod, and get those s'mores roasting!
Note:
Some of the components of the shovel are quite sharp, so please keep it away from children.
Do not use the shovel as a prying tool.
Do not immerse the shovel into a corrosive liquid, such as seawater, acidic solutions, soap water, or any other harsh detergents.
Throw it in your bug-out-bag, hunting, camping or hiking backpack and be prepared for the worst.