Sale!
GIGA Pump – The Smallest Air Pump & Lantern 3 in 1
Save $20
Only 5 left in stock
6
People
are viewing this right now
Description
Have you ever experienced these situations?
GIGA Pump is the solution to all these problems!
✔️ Automatic Inflation and Deflation – Quickly inflate most of your inflatables, saves you time and energy.
✔️ Rechargeable and Long-lasting – Ensure 60 minutes of inflation/deflation. Best for outdoor camping, beach, pool, and traveling.
It has a phenomenal 3 in 1 design of Air Pump, Vacuum pump, and Lantern. The GIGA Pump is a new generation portable but powerful pump.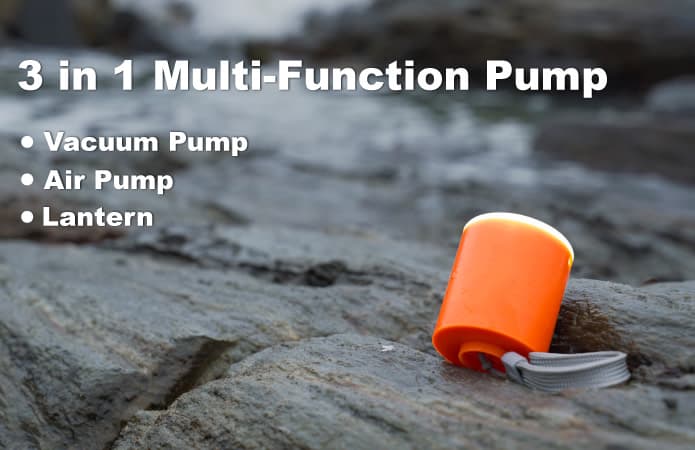 3-in-1 Gives You More Convenience
1. Air Pump for all your inflatables
The flow rate of GIGA Pump can reach 300L/min and the pressure can reach 2100PA. It is the perfect tool to bring along when going to the beach in summer or at your mountain hike; it can quickly inflate and deflate your swimming tube, air mattress, and any other inflatables. With GIGA Pump, you do not have to worry about blowing air with your mouth.
2. Saves you more than 50% space
The GIGA Pump is not limited to outdoor use, but also perfect for every household. It could work with a vacuum bag to store spare comforter and out-of-season clothes. With its powerful deflation, it helps to save up to 50% of space. Turn on the deflation switch and it will suck up all the excess air within the vacuum bag quickly.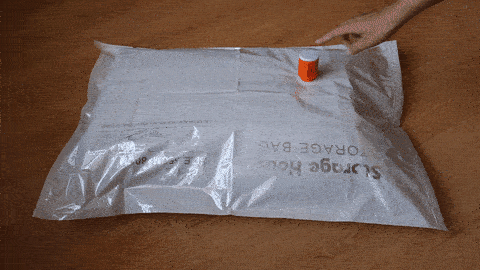 3. Lantern for all your night needs
The biggest advancement is that GIGA Pump comes with an ultra-bright lantern with a brightness of 40lm to up to 400 lm. It has 3 levels of lighting. With up to 10 hours of battery life, GIGA Pump provides you more convenience both in your outdoor and daily life.
Super Small Size and Ultra Durable
With its ultra-portable design, GIGA Pump is only 3.1oz/89g and the size is as small as a key. It is suitable for most of the context in your life and you could take it with you anywhere at any time.
Made with solid ABS engineering plastics, GIGA Pump is super durable. After numerous falling tests, it is proved that GIGA Pump still works perfectly after dropping it from 6.5ft/2m high. Its hard shell ensures it remains solid when the temperature is below -22°F/-30°C.
Long-lasting battery
With a built-in lithium battery of 1300mAh, it is the perfect tool to use outdoors. On a single charge, the GIGA Pump can inflate 50 swimming rings, 10 air mattresses, and deflate 20 vacuum bags, or last up to 10 hours of illumination. It is proved that the battery can recharge up to 20 million times. The GIGA Pump can be charged by a fast Type C port, you could charge it by a power bank, a normal wall charger, or a PC computer.
Extra Nozzels
Equipped with 5 different air nozzles, it has a wide range of uses and can meet your different inflation needs. Suitable for outdoor air mattresses, car air beds, swimming rings, water floating row, vacuum storage bags, and other inflatable products.
What's in the Package
GIGA PUMP 2.0 *1, Storage Bag *1, Air Nozzles *5, Type C Cable *1